DateHookup.com Review

Visit site
Rating: 1
July 8 2013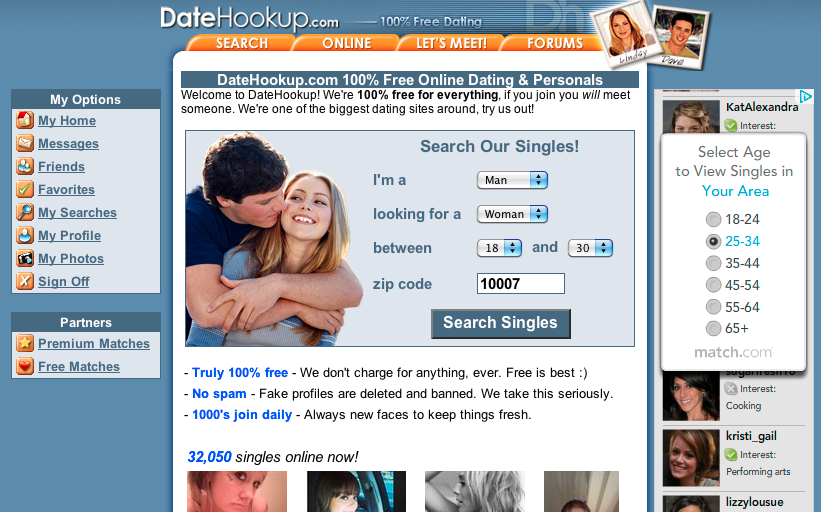 DateHookup.com is a an online dating site that's claim to fame is that "We're 100% free for everything, if you join you will meet someone". That statement seems a bit over confident since after using the site I was nothing but disappointed. The site feels antiquated since its layout is dated and not very attractive to the eye. The site has mostly basic features that you can find on any other dating site, but most dating sites have something unique to offer, DateHookup does not. The site is sponsored by some major players in the world of online dating Match.com, Zoosk.com, BeNaughty.com, Fling.com and AdultFreindFinder. Now the question I have is, if DateHookup is so great and you "will meet someone" and the site is %100 free why would anyone have to sign up for any of the other sites which charge you for their services? Although, the statement that you "will meet someone" is pretty vague since simply interacting with someone on the site can technically be classified as a meet. They're not promising that you will hook up or date someone not just that you will simply meet someone who you can do on any online dating site.
Features
- The site does have an alright search page with a bunch of options in the advanced search. You have a few categories you can focus on or you can get very specific and fill out each search term. Under "Physical" you can select their age, height, hair, eyes, body, ethnicity and astrological sign (which I'm not sure has anything to do with your physicality). Under "Personality" you can specify Politics, Religion, Kids or Smoke, but no Alcohol?You can also search by Username or Keyword since users fill out keyword of their own on their profile pages.
- "Latest Activity In My Area"" is a live stream type page where users can post status updates similar to Facebook, most of which are people being bored it seems for the image below. It also shows when members have received gifts or added photos to their profile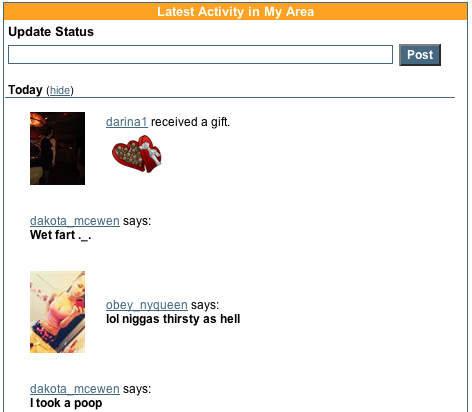 -  The site is (in their words) Truly 100% Free. This is true but you're getting what you pay for since the site doesn't really have much to offer.
- The claims that it has "No spam - Fake profiles are deleted and banned. We take this seriously." Although the Terms & Conditions are completely contradicting to that claim by clearly stating "DATEHOOKUP.COM IS NOT RESPONSIBLE FOR ANY INCORRECT OR INACCURATE CONTENT POSTED ON THE WEBSITE OR IN CONNECTION WITH THE SERVICE, WHETHER CAUSED BY USERS OF THE WEBSITE, MEMBERS OR BY ANY OF THE EQUIPMENT OR PROGRAMMING ASSOCIATED WITH OR UTILIZED IN THE SERVICE"
- The site provides a clickable option for "Premium Matches" or "Free Matches" but when you click on them it directs you to Zoosk.com for the free matches and Match.com for the premium matches.
- The site has a page titled "Let's Meet" where they show you profile pictures from a member's profile and ask if you would like to meet them by choosing either yes, no or maybe and if you both select yes then you both show up on each others Mutual page and you can contact the user for a potential hookup. You can also view their profile if you really like what you see and speed the process up by sending them a message or a gift.
- You can also simply rate users profile pictures on a scale from 1 to 10 and when you select your rating the page shows you the pictures average rating and how many ratings its received. Your profile picture is also subjected the same treatment and the site allows you to view the ratings people have given your photo. You can also report the photo and flag it for having nudity, being fake/inappropriate or for not having a visible face.
-  The site has a heavily used Forum with a tons of topics, The "20′s Chat" group alone has 17,775 threads with 2,236,727 replies with questions like "Would you do 69 or doggy or eat ass or stroke them or run from the PAY?" or simple one like "Smash or Pass". Then there are some really fun one like "Dumbest thing you've ever done while being drunk?" and a few stupid ones like "How many guys think they can get a girl off just by chatting lol?" but the whole thing is actually quite a bit of fun.
Drawbacks and Caveats
DateHookUp is very basic and leaves much to be desired. The layout and design are very dated and leave you feeling like it's the 90′s and you're using a dial-up connection. It offers only the bare minimum when it comes to features which any other DateHookup site can easily provide , and then some. The site raves about how great it is and how you'll meet someone and how everything is 100% free, If this was at all true then why would anyone need to use their sponsor sites like Match or AdultFreindFinder which charge you money and provide the same promise? Wouldn't be the only site you would ever need? The sites seem to have only one function to me and that's to get you to sign up for one of the sponsor sites. I think they want you to sign up for free then inevitably be disappointed by the site and leave you wanting more so you go to one of the paid sites and sign up there to relive the stress of your frustrations forum using DateHookup.
Conclusion
The site to me is a total waste of time but thankfully not money. With so many great online dating websites out there now there is no need to drudge the bottom of the lake and waste your time trying to hook up on DateHookup. Do yourself a favor and sign up for any other site that will provide twice as many features and actually find you a date. Even if you did happen to find a date, the site is dated and free so are we really interested in the members of this site?
BACK TO DATING SITE REVIEWS            INTERNET DATING AWARDS HOME              DATING TIPS BLOG