Rating: 5
February 19 2013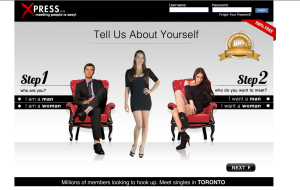 ABOUT
Looking to hook up with local singles? Then xpress.com  is site worth checking out. It's free to sign up and they offer a 3-day trial for $1.95/day so you don't have to commit to upgrading right away.
The site's high success rate is due to it's large database of users and it's variety of features to allow candidates to communicate with one another, plus when you upgrade your membership there is a 100% guarantee that you will hook up with someone.
When initially signing up, a quick interactive menu will ask users their gender and what they are looking for. After which users are given a quick opportunity to browse pictures of available singles.
You're then able to browse profiles of members within in your local area, or in any desired geographic location. Some member photos are withheld from public view, but once you start interacting with people through their instant message or email, users are able to grant access upon their discretion.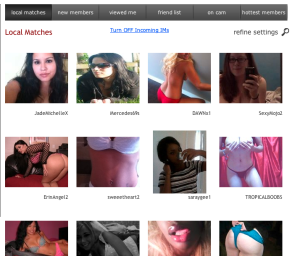 FEATURES
1) Focus is on local matches, with smart geographic location technology, it's easy to pinpoint a potential date with in your area. Having the ability to narrow your search makes it a lot easier to browse the plethora of members and increases your chances of actually finding someone.

2) Message boards allow users to "xpress"  their opinions and thoughts on the forums provided. Some of the topics include sex, relationships and dating, kinky stuff, hookups for all ages.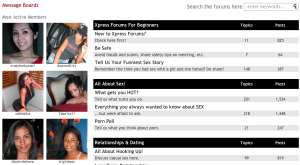 3) Hottest Members! Like any good bar or club its judged based on quality of the crowd. Same goes for any good dating site. The site aggregates the hottest members through ratings on users profiles and photos. The higher the ratings the higher they are ranked. This makes it easy to find the most attractive singles on the site.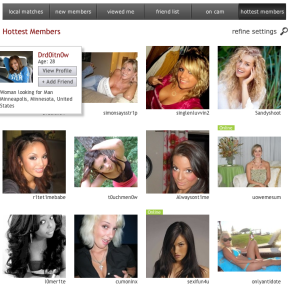 PRICE
| | 3-Day Trial | 1 Month | 3 Months | 12 Months |
| --- | --- | --- | --- | --- |
| Sign-Up | - | - | - | - |
| Silver Membership | $1.95/day | $29.95/month | $19.98/month | |
| Gold Membership | | $34.95/month | $23.32/month | $12.50/month |
Benefits of having a Silver Membership:
-100-Day Guarantee
- View and contact all members
-Instant messaging and chat
Benefits of having a Gold Membership:
-Be featured on all search results
-Access to member to member videos
-Access to member webcams
-100-Day Guarantee
-View and contact all members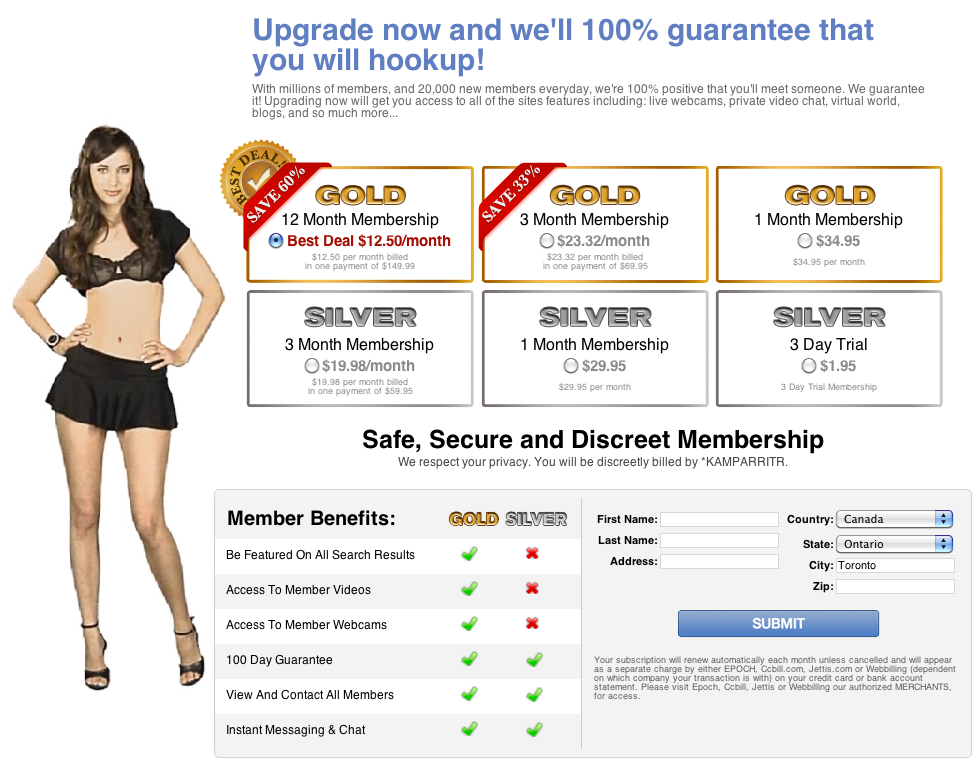 DRAWBACKS AND CAVEATS
Although there are a ton of features that Xpress.com offers, you won't be able to access all of them as a free member. You would have to upgrade to a Silver or Gold Membership. As it is initially a free site that will mean ads will pop up from time to time. Be warned they will be of adult content, but that is to be expected. Uploaded photos must get approved before it's public to the site. So make sure that photo of yourself is, yourself!
CONCLUSION
If you're looking for a  local site for hooking up like-minded singles then xpress.com is the place to start. Signing up is free, but for access to all the features an upgrade to either silver or gold membership is key. The 3-day trial is a great way to kick around the site without committing right away reservations about signing up, as membership lets users get the most value from the site and increase the chances of hooking up with millions of sexy singles This site emphasiezes finding local members for you to hook up  and with millions of members, so you're bound to find either "Mr. or Ms. Right now."
BACK TO DATING SITE REVIEWS       INTERNET DATING AWARDS HOME         DATING TIPS BLOG