The Worst Sites For Hooking Up With Girls
David Tran | July 16, 2013
With all the great online hook up sites on the net there is bound to be the odd bad apple. We all know that the internet has its fair share of scammers, so were here to help you avoid them when it comes to hooking up with girls online. If you haven't already checked out our article about The Top Sites For Hooking Up With Girls than make sure to give it a read after finding out what hook up sites to avoid. The following sites should be avoided at all costs since these sites aren't interested in getting you laid, but instead only getting your money.
JustHookup.com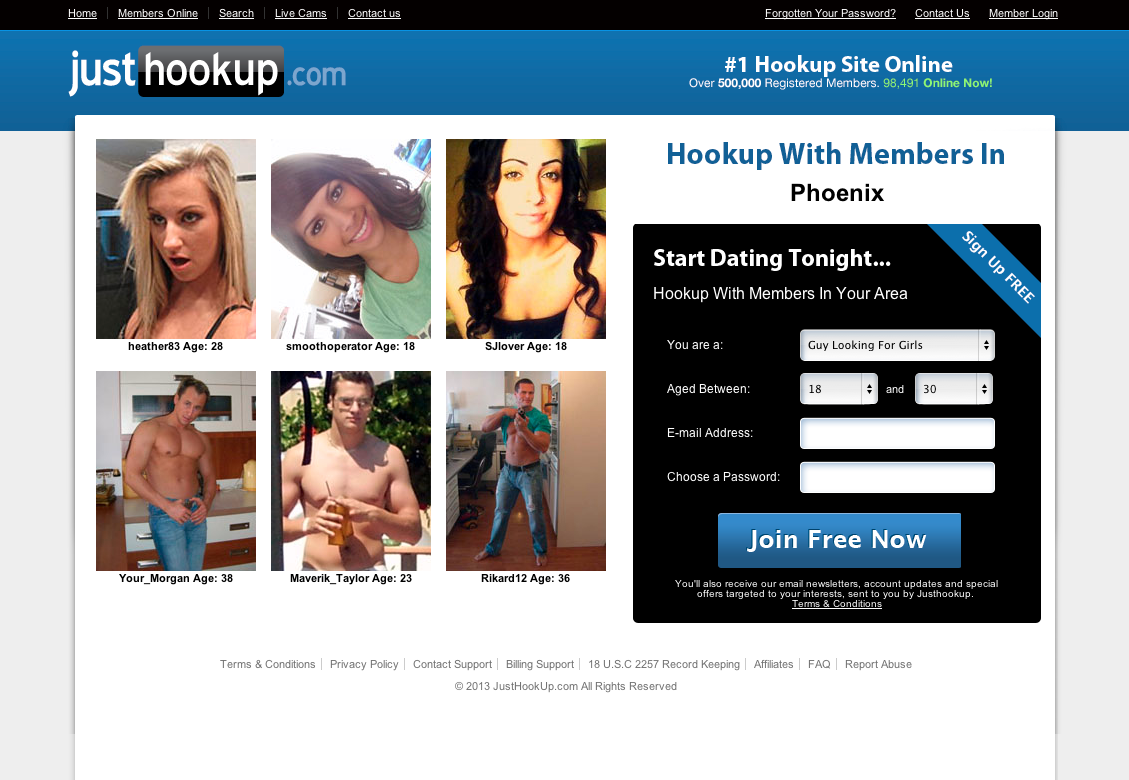 The winner of our "Worst Dating Site Scam" award this site belongs right at the top of the list of hook up sites to avoid. The sites "Terms & Conditions" admits to the use of what they call "Virtual Cupids" which are bots or creepy sweaty guys in front of a monitor who send communications to you on the site to "enhance the users experience" while using the site. Not only is this the regular day to day on goings at the site but they even show you which profiles are "Virtual Cupids" by displaying it right on the "members" profile page with a small VC symbol. I'll let the site speak for its self since when you agree to the terms you "acknowledge that some of the profiles and Members displayed to them may be fabricated to promote user, Member and/or Subscriber activity and participation in all the Service"

HornyMatches.com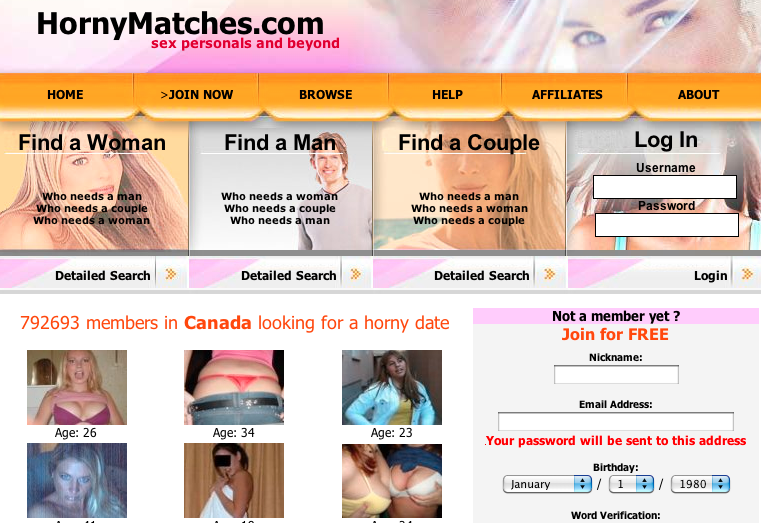 The winner of our award for "Worst New Dating Site" this site was undoubtably going to be on our list. The site looks cheap and old like some dried up hooker on the streets of the Bronx and is equally as useful when it comes to hooking up. The site also admits to using fictitious information to help with the users enjoyment of the site ""we may post fictitious profiles, generate or respond to communications by means of automated programs or scripts that simulate or attempt to simulate your intercommunication with another real human being (though none really exists and any dialog is generated by programming), and we may employ or contract for the paid services of real persons who may interact with you as part of their compensated employment." If you do happen to avoid the fictitious profiles on the site and stumble across a real woman, she is most likely going to be a prostitute looking to expand her client base and charge you for her services on top of whatever you had to pay just to talk to her. The site is a total waste of time and money so avoid HornyMatches at all costs!
DateHookup.com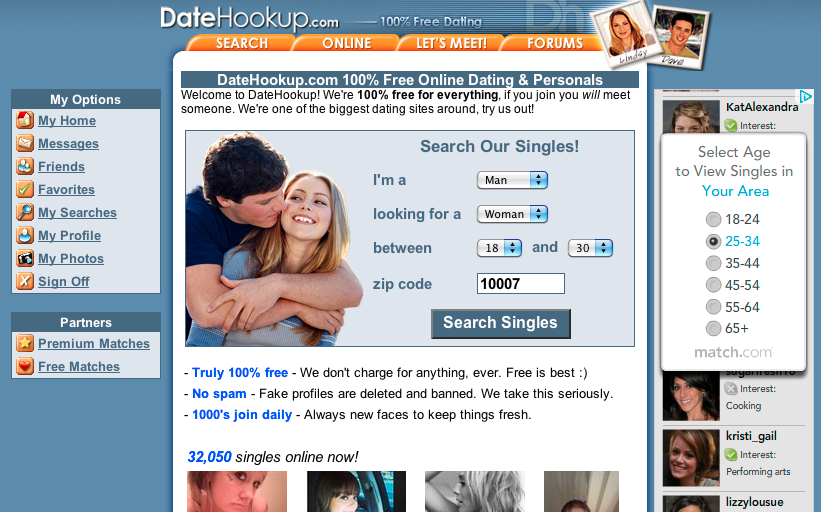 DateHookup is a hook up dedicated site that has some pretty big players in the game of online dating as it's sponsor. DateHookup.com is the epitome of a crappy dating site. The layout and design are dated and cheap and the features leave a lot to be desired by only providing the bare minimum. The site has nothing unique to offer except the fact that everything is %100 free, but as they say, you get what you pay for. The claims to be free and to be the only site you'll need to find you a girl to hook up with. If this was all true then why would you ever need to go to one of its sponsor sites and sign up at a cost to get the same thing that DateHookup can provide for free? because DateHookup.com dosent provide shit. It seems to be nothing more than a way to get users to sign up and then frustrate them with the terrible functions and bull shit to eventually have them sign up for one of the paid sites memberships after being left out to dry by DateHookup. The site is a useless stepping so, I would suggest avoiding wasting your time and going directly to a paid site that WILL get you laid [Read: Top Site For Hooking Up With Girls]
PlentyOfFish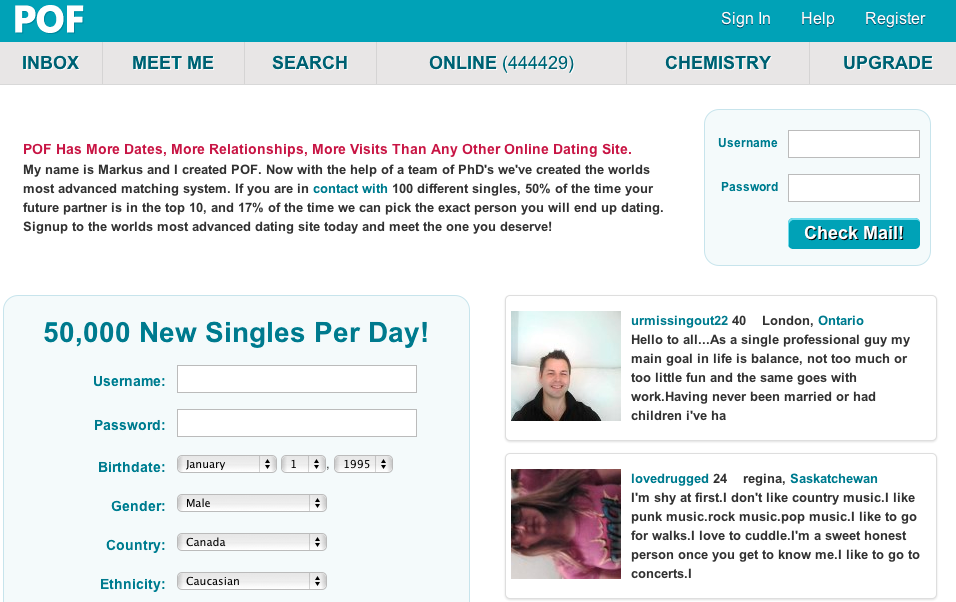 I wanted to include PlentyofFish on this list because I don't believe it to be worth the effort of very little reward. I'm aware of the multitude of video and articles online that teach you how to get laid using POF. If you need to be taught a tactic or a strategies then you've already put way to much effort into it. There are sites that exist that will get you laid and all you have to do is pay a small monthly fee. Would you prefer to use a lot of effort for little reward or use very little effort for a great deal of rewards? I'm not saying PlentyofFish wont get you laid, im just saying you could get laid a lot easier for a small fee, and you spend the time you saved doing what you really want to do which is hooking up instead of trying to hook up.
BACK TO DATING TIPS BLOG          INTERNET DATING AWARDS HOME          DATING SITE REVIEWS