BeHappy2Day.com Review



Visit site
Rating: 3
August 21 2013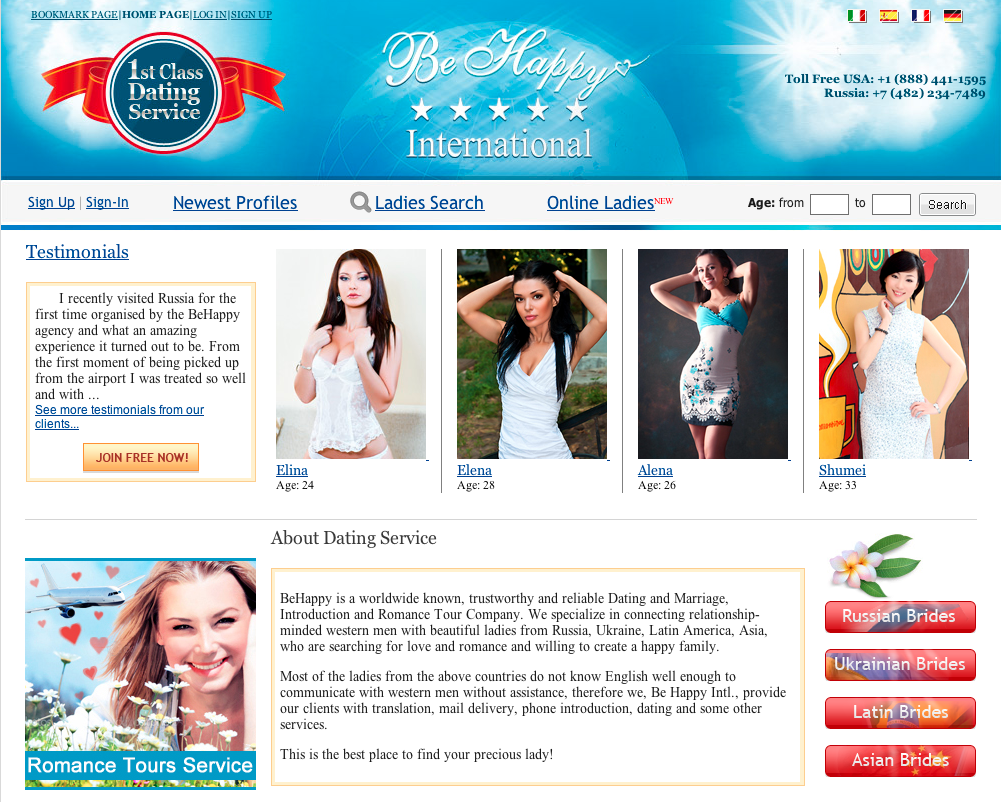 BeHappy2Day.com is a dating and matchmaking service for men from all around the world who want to meet Russian, Asian or Latin woman. The site has been operating since 200 with its headquarters located in Tver, Russia. They also have 24 satellite offices set-up internationally. The site allows you to browse their membership data base before even signing up, you can also view which members are online and if you like what you see you can opt to sign up. The sign up process is very quick and simple only asking you for a few pieces of information before your account is created. If you want your profile to be more in depth then you can manually fill out the information at any point. To create what they call a "Gentleman's Listing" it costs nothing, although once you start to communicate with the woman on the site you will need to pay for each email you send and for each one you receive that you choose to read. You can visit a females profile before you opt to read her message so you wont need to pay for the message if you're not interested in her or reading what she has to say.
Features
- A quick search option is available from any page of the site, you simply enter an age range of your choice and the site provides a list of matches for you to browse.
- You can also do quick searches for the newest profiles, who's online at the time or woman who have videos posted in their profile. The site also recently added Asian and Latin woman, so you can do a general search by ethnicity as well. The search engine feature allow you to get as specific with your search as you like, you can choose a ton of different search terms. You can select all the typical stuff from Hair Color and Religion, but you can get really specific and pick either woman's the country of residence or even the specific city within the country. If you get too specific though you may narrow your options to only one results, although she might be the woman of your dreams?
- You can send your potential bride gifts in an attempt to further woo or impress her. You can give Flowers, Chocolates, Perfumes, Champagne, Teddy Bears or Romantic Gift Sets. She'll hopefully be smitten since the flowers start at $40.09 for 3 roses and the gift sets ranging from $77.39 up to $205.19.
- You can also send virtual gifts to your woman. The site also will provide a list of females who are about to have a birthday so you can send them a gift and hopefully catch her eye while doing so.
- The site facilitates "Romance Tours" where you can actually travel to a city to meet one of the sites female members in person. The site will take care of everything transportation, accommodations and the introduction, they also will provide a translator depending on the woman's level of English.
- You can pay for your lady to get english lesson for $169 a month, or you can keep her the way she is and not have to worry about getting into arguments.
- The site is has a regular pop up that informs you when a girl has come online. This can be a bit bothersome at time but if you are looking for a girl quickly who already online ready to chat this can come in useful.
- The site provides "Dating Tips" Although the dating that takes place on the site is a bit different from regular dating. They provide tips for Traveling and Correspondence as well since they are fairly unique features of the site.
- The "In The Media" page shows a list of articles and mentions that the site has received from larger sites like Reuters, Forbes and Google News.
Pricing
The site is 100% free to sign up for, but once you want to communicate with one of the woman that's when the pricing comes into play. The information below is directly from the site.
10 credits will be deducted from your e-mail account for each e-mail letter you open or send. You will only be charged if you open a ladies message. You will be able to view the ladies BioData and Photo first. This is important because you choose the ladies you would like to correspond with.
Live Chat is very affordable! It costs 1 credit (under new credit system) for one minute of online conversation. Examples:
Chatting time of 4 minutes = 4 credits
Chatting time of 10 minutes = 10 credits
Chatting time of 15 minutes = 15 credits and so on.
The price for credits varies from as little as $0.33 to $0.70 per credit. The more credits you purchase the less the cost will be. See price list. See price list.
| | | |
| --- | --- | --- |
| 20 | credits for | $14.00 |
| 40 | credits for | $26.00 |
| 80 | credits for | $48.00 |
| 160 | credits for | $86.00 |
| 320 | credits for | $158.00 |
| 500 | credits for | $219.00 |
| 1000 | credits for | $349.00 |
Video Review
For a more in depth look at the site and its features check out or video review HERE

Drawback and Caveats
The site has a lot of different ways to communicate with female members, but the cost is a bit higher than most. The woman you are going to communicate with though are real, so you don't have to spend the money just to be disappointed, the price might be higher but you are getting what you paid for. Within 3 days of signing up for the site I received 142 messages from female members. While this isn't a bad thing, There is no way I could read them all since I would need to pay 10 credits to view each one. If I read every message I would need 1420 credits, which would cost me at least a total of $497. So realistically I would need to pick which messages I want to open based solely on the small profile picture. I would also be aware that there are other messages I didn't read and I would forever be curious  about the other messages that I missed out on, although each one of the women were more beautiful than the last so I don't think any of your options would be a bad choice.
Conclusion
BeHappy2Day seems to serve its purpose very well. If you are looking for an Asian, Russian or Latin bride then this site is where you need to go. The site is a bit on the pricey side, but its hard to put a price on love. If money isn't a factor and you genuinely want a woman who is looking for a partner and marriage then check out BeHappy2Day and start your new life of happiness today!
BACK TO DATING SITE REVIEWS            INTERNET DATING AWARDS HOME              DATING TIPS BLOG