UBangWithFriends.com Review




Visit site
Rating: 4
September 5 2013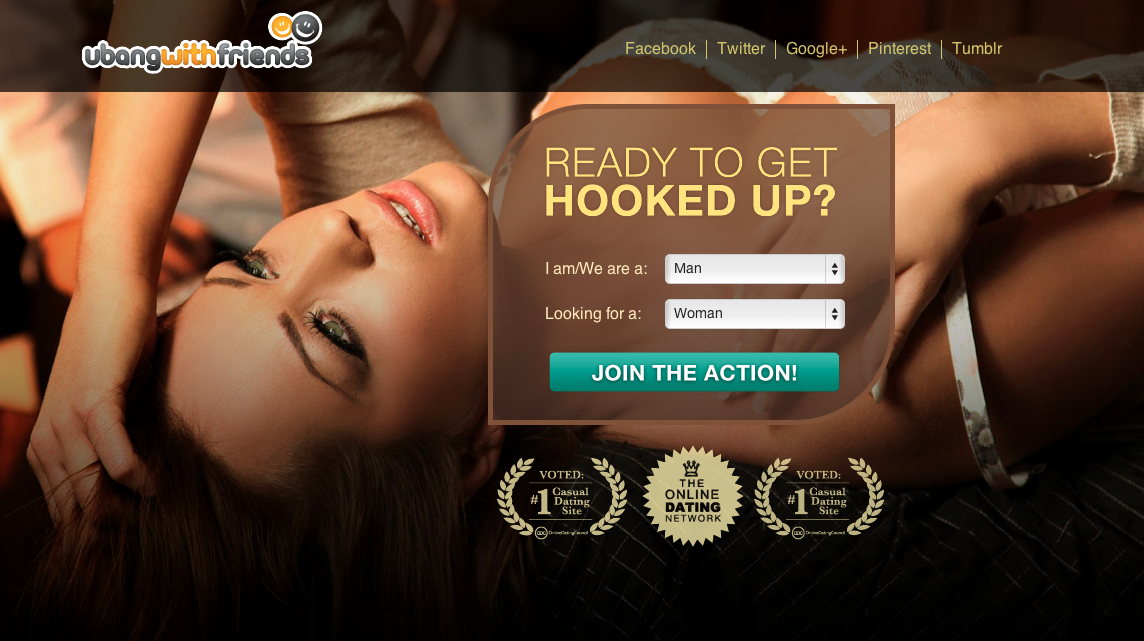 UBangWithFriends is a new online dating and hook up site where you can connect with people to build friendships and eventually well…bang them. The site is easily one of the best sites online for finding a hook up, whether it's for a one night stand, an occasional fuck buddy or for something on the regular to last for a while. Members on the site are not shamed or hesitant to communicate their wants or intentions when it comes to their sexual desires, so finding exactly what you want could not be faster and easier. Finding the perfect fuck buddy will take literally minutes. The sign up is also extremely simple since you only need to provide your email, desired username, age, what sex you are and looking for and you are ready to join the fun, and fun it is! The site claims that if there were one word that could accurately descried the site it would be "Trust". The site provides a "Get Laid Guarantee" which speaks to their confidence that their services will get you laid since, as the site puts it perfectly "If you aren't having sex, we aren't happy!"
Features
- There is a great mobile site allowing you to browse for singles from anywhere on the go. This only further adds to the convenience and usability. It's also The mobile site also allows you to browse secretively, so you can hide in plain site while browsing on other go or keep yourself off the radar online.
- Discretion Controls allow you to pick and choose who can view your profile info and online status by giving you a few different options to turn off or keep on. You can select to "Hide my profile from all members – I can grant access on a per member basis", "Hide my profile from all members, with the exception of members I contact", "Hide my profile from all members, with the exception of paid members", "Allow my profile to be viewed by all members" and "Allow my profile to be viewed publicly".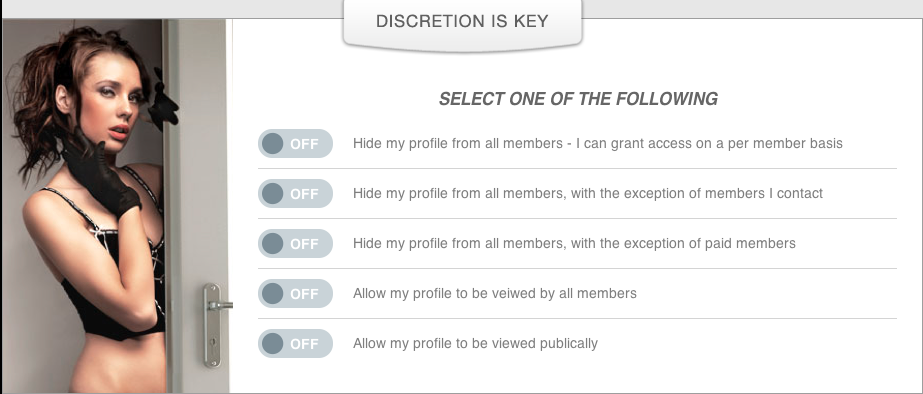 - Quick search from the home page allows you to do a general search for members in your area. You can also search by the sites suggested matches or the most popular members on the site.
- Add members to your "Friends List" and get quick access to them so communicating in the future becomes quick and simple, making it even quicker to find a late night hook up on those lonely nights.
- "News Feed" shows you an up to date summary of interactions on the site whether it be members viewing your profile or a friends interactions on the site.
- Not only can you fill out your own info on your profile but you can also get very specific about the person you are looking for. If a member meets all of your criteria they will show as a match from the site
- Members can post multiple pictures and also a video of themselves on their profile page
- "Who's Viewed My Profile" is a great place to check up on who been checking you out and a great way to save time since it provides a list of users you know are already interested. They also have an ever better option of "Who wants to meet" where you can get right down to business. You can also see members who have added you to their friends list.
- They have a great page of "Special Offers" that give you discounts on all your favorite porn sites on the web
- Members profile pages displays your "history with this member" so you can quickly see if the user is someone you already communicated with and had no success so you wont need to waste your time again.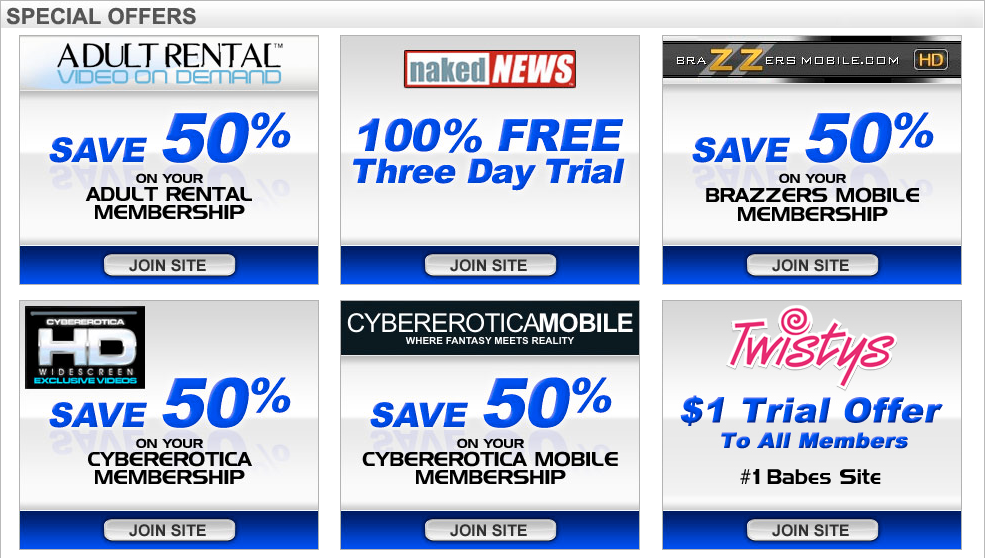 - Gold members are automatically entered into a draw to win an all expenses paid trip for you and a friend to Hedonism 3 in Jamaica, where it is guaranteed to be one wild party as they describe the experience as "The wildest trip of your life!"
- The sites "XXX Theater" page is full of a ton of free pornography of any category you could possibly desire
Pricing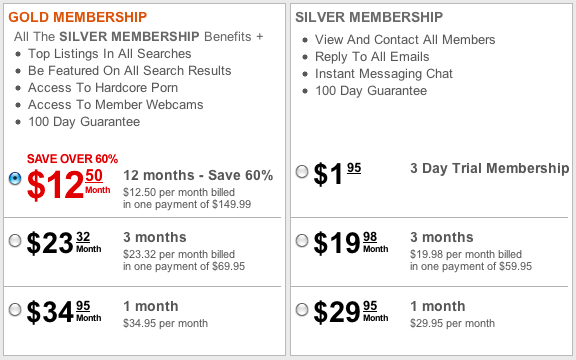 Video Review
For a more in depth look at UBangWithFriends and its features check out our video review HERE

Drawbacks and Caveats
UBangWithFriends.com provides a ton of information about a user when you are viewing their profile page, you can also get a ton of great info on what they are looking for in a partner. It does seem that there might be a few things that in my opinion, are a bit unnecessary. Like why do I need to know what kind of car you drive? Does that have anything to do with your personality? I don't think so. Also asking someone to describe their "Personal Style" wont do anyone any good, If someone answers "I'm unique and like nostalgia" it really should just say "hipster". There was also a section I found a bit surprising, when you scroll down close to the bottom of a female members profile there is a question that says "Am I a paid companion?" thankfully I didn't find any that said yes. If you were looking for those services, I guess here would be a better and safer place then on a street corner, but I can't imagine you having a membership to this site and needing to spend any more money to get laid. If you communicate with the woman on this site I have no doubts that you can get laid very easily.
Conclusion
UBangWithFriends is a great site that serves it purpose very well and that purpose is to get you laid, and quickly. You can easily find someone to fulfill whatever sexual fantasy you can imagine, and you can find someone who will be completely discreet about it. Signing up for the site will not leave you frustrated and still wanting to get laid. You will be nothing but satisfied and you can continue to use the site for hook ups on a regular basis without ever having to double dip. So sign up and get laid tonight!
BACK TO DATING SITE REVIEWS            INTERNET DATING AWARDS HOME              DATING TIPS BLOG