Rating: 3
September 18 2013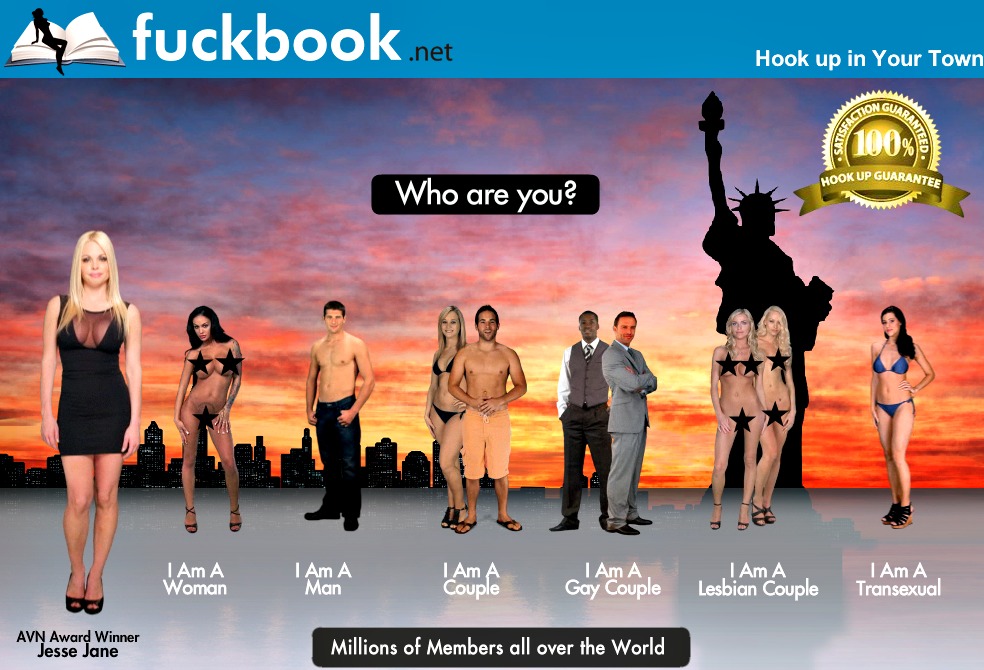 Fuckbook.net or as its also know as "The Original Fuckbook" is an online hook up site for casual sex personals. If you are an addict of Facebook and you're looking for a hook-up and some casual sex, then look no further, because fuckbook.net is the site for you. The set-up process is super simple. The first page only asking you to enter your email, password, zip code and age. You will also need to distinguish whether you're a man looking for a woman or a woman looking for a man, or if you're seeking a couple instead of one individual sexual partner. The last step before you're ready to start using the site is to pick a desired username, and fill out a few questions about yourself such as Race, Hair Color, and Body Type. once you've done this you are on your way to the home page. Once you hit the home page you are welcomed by a page filled with photos of hot sexy singles waiting to communicate with you and hook up. They display member profile picture under multiple categories "Who's Online Now", "Hotties In Your Area", "New Members" and "Featured Members". There is also a very convenient search tool right at the top of the home page with a quick drop down menu asking if you are a woman, man, couple or transsexual and what of those options you are looking for,  you can also choose age and proximity and the sie will give you a list of the best possible matches.
Features
- "Advanced Search" Allows you to choose a list of search terms that you would find on most site and then you have a few other options under the categories of "Appearance", "Interested In", "Compatibility" and "Professional". You can also choose to view the results of members who are online now, members who have verified photos, user with photos and users who are available for video-chatting. Lastly, once you receive your results you can organize them by distance, last logged in, photo count or most popular.
- "Who's Viewed Me" page allows you to see which members have already shown interest in you by checking out your profile, this is your best place to browse for the easiest pay off with the least effort.
- "Who's Online Now" page gives you a ton of options of users who are online and ready to flirt and chat right away, and possibly a bit more than just flirting.
- "Photo Gallery" is a great page that just simply shows you a long list of members profile pictures for your viewing pleasure. You can also go directly to their profile page from the photo to find out more about the user if you like what you see. They also have a video gallery as well which is even more enticing.
- "Inbox" allows you to see any messages that have been sent to you from other members who are interested in hooking up. After using the site for a day I received about 7 message from a variety of different woman of all types. This was a good sign to me since its not an unbelievably high number, but instead believable since the messages seemed very genuine and not generic or pre written.
- "Safe Mode" can be turned on if you don't want to see any members with explicit content in your search results, why you would want though, that is beyond me. YOu can also make your profile discreet so it will only show up for members in your friends list and yourself
- "New Faces" page shows local singles in your area who have recently signed up for the site and is a great quick tool to find someone close by for some fun
- "Profile Reviews" On a member's profile page other members can leave written reviews which can be view by anyone looking at you profile.
- Profiles can have up to 10 photos and 1 video uploaded on the page. The profiles also show you the last time a user logged in so you don't have to waste your time messaging and in active user profile.
Pricing

Drawbacks and Caveats
When I was browsing through FuckBook my search results I was disappointed to find out that I could not view a member's profile page before upgrading my membership first, a bit discouraging. The site does provide a few ways to contact another member with a basic member ship. For example you can send a free wink or communicate through "quick chat" which give you a list of pre determined messages which are pretty generic saying stuff like "How's it going?", "Awesome pics", or "You look great, care to chat?". There are a few options that are a bit more direct like "Looking for some fun, hit me up" or "Care to do something low key". Once you upgrade your membership you can say whatever you would like to. I was discouraged at first by not being able to see a member's profile page before upgrading (especially when they send you a message), but after I upgraded the annoyance turned into an after thought since I was to distracted by the insanely hot woman on the site to put more thought into it.
Conclusion
Fuckbook.net is relatively simple compared to some other online dating and hook up sites, but it goes more for substance over style. You don't need any fancy or unnecessary features because you only briefly need to communicate with the sites members before your face to face and getting down to business. The site is void of any overly explicit advertising so the pages load fast and the site runs smoothly. The site also guarantees that you will get laid using the site or you will get a complete free membership so there is no gamble when it comes to hooking up on the site. So if you're looking for a no strings attached casual sex hook up in your area then you must check out the site and start communicating with singles tonight.
BACK TO DATING SITE REVIEWS            INTERNET DATING AWARDS HOME              DATING TIPS BLOG