AdultFriendFinder Review




Visit site
Rating: 3.5
March 12 2013
AdultFriendFinder Review
About
AdultFriendFinder is a true giant in the sex dating world, having the distinction of being one of the very first large-scale online connections sites. It boasts some of the biggest numbers when it comes to members, although I'll discuss why those might not be all they're cracked up to be a little later in this review. It was recently bought outright by Penthouse.com, which means that there is now a lot more T&A on the site in the form of banner pics, animated gifs, and pop-up windows with sexy,short videos. Still, it still remains at heart an online dating site. It offers the standard fare of hooking up people looking for heterosexual, homosexual, groups, or kinkier relationships.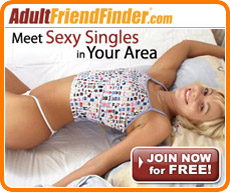 To begin, a free trial account can give you a basic idea of what AdultFriendFinder offers, and whether or not it has the sort of content and feel you want from a dating website. If you're looking to meet other horny people in your immediate vicinity who probably don't need to even know your real name, this is the kind of place where like-minded, sex-hungry humans congregate. From there, you can become a paying member, which will give you more comprehensive access to the site, with features like live cams, chat rooms, user blogs, forums, instant messaging, and email.
To its credit, AdultFriendFinder has a couple things going for it. The search functionality is truly comprehensive, and is great at pinpointing and delivering the specific thing you are looking for at the site. Instead of getting a hundred results, only a dozen of which are really appropriate, this site gets you to those twelve more efficiently. Combining this effective database decemination with the truly staggering amount of people supposedly using AdultFriendFinder, and you've got a quality hookup site. However, you shouldn't judge this book by its cover!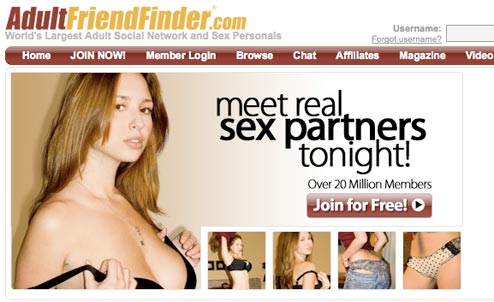 Features
Free chat rooms.
Free registration and initial membership.
User blogs and forums.
Instant messaging and email.
Live cam section to video chat with other members
Member Ezine
Prices
Silver Membership
1 Month Subscription- $19.95
3 Month Subscription-$ 35.95
12 Month Subscription- $ 99.95
Gold Membership
1 Month Subscription- $ 29.95
3 Month Subscription- $ 59.95
12 Month Subscription- $ 149.95
Members using a free account have no access to site functions like IM, live chat, groups or member blogs. Members with the silver plan get limited access to these features, while Gold membership gives users complete use of all AdultFriendFinder's functionality.
Drawbacks and Caveats
The main problem with AdultFriendFinder is that despite their repeated, proud pronouncements that they have more than twenty million members, quite a few of the profiles on the site are either abandoned, fake, or belong to "professional" sex purveyors looking to increase their client base. Additionally,  the site itself is convoluted and difficult to negotiate. It can take quite a bit of time learning how to get to all the places you want to use while online there. Perhaps the worst part about the site is the limited access that the free and even silver memberships have to the AdultFriendFinder's functions. They really force you to upgrade to the gold membership to enjoy the site as a whole. On the other hand, even the $29.95 monthly gold membership is a deal compared to going to the clubs and bars and buying drinks for random strangers!
 Conclusion
AdultFriendFinder is a hugely popular site that got into the online dating game early and has been reaping the benefits of it ever since. Just as the "most watched" or "most popular" media on any website has a self-perpetuating way of getting more and more popular, so too does AdultFriendFinder find itself continually getting bigger and bigger because it is already so pervasive. Unfortunately its abundance of vacant, fake, or prostitute profiles means it isn't nearly as popular as it says. Combining this fact with the need to shell out a fair amount of cash to effectively use the site means that altogether, AdultFriendFinder may not be the best option out there.
BACK TO DATING SITE REVIEWS       INTERNET DATING AWARDS HOME         DATING TIPS BLOG