BeNaughty.com Review




Visit site
Rating: 4
April 16 2013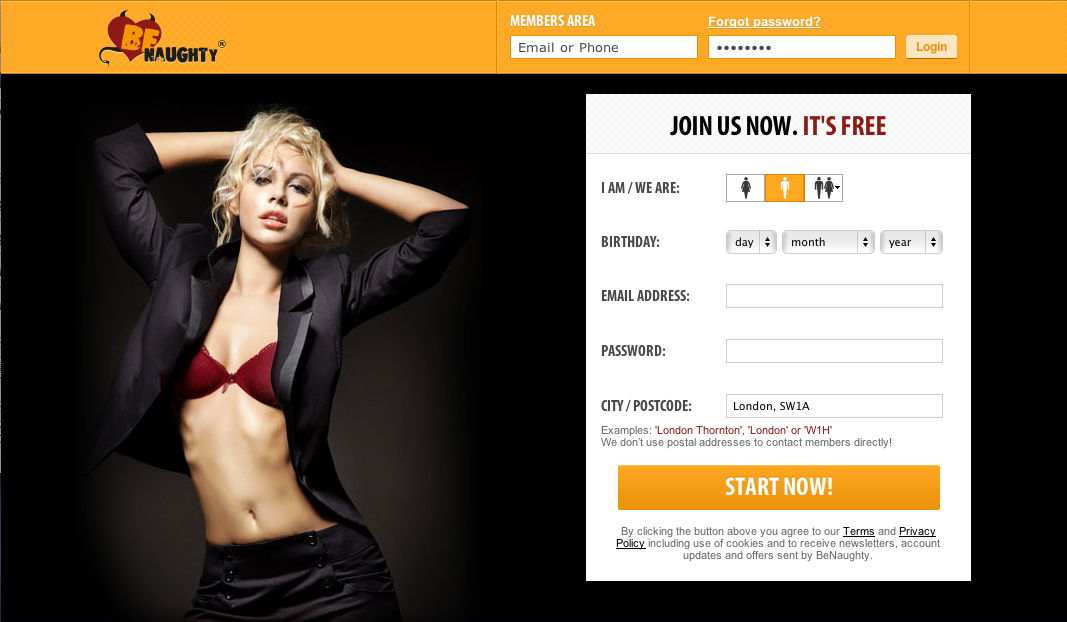 About
In the world of online dating things can sometime get a bit repetitive and stale, if your in need of a little change check out BeNaughty.com. The website has a very stylish and innovative design that provides a great member experience while browsing profiles and communicating with other members. The site is free of the usual amount of excessive explicit ads that most sites are covered with, there is only one very strategically placed ad on the page that seems to blend right into the layout. The layout of the site is very pleasing to the eye with a slick layout and a great IM feature that is very easy to use. Once you answer a few basic questions about your age and location you are asked to write a message and also give you the option to send the message to your 10 best matches right away. They recommend adding a photo to your profile since according to them this will get you 10 times the amount of replies. You are rewarded with 100 "BeNaughty points" for signing up to the site and confirming your account via email. These points can be used to send other members virtual gifts. You can earn more points by uploading photos and videos or upgrading your account, you can also purchase points.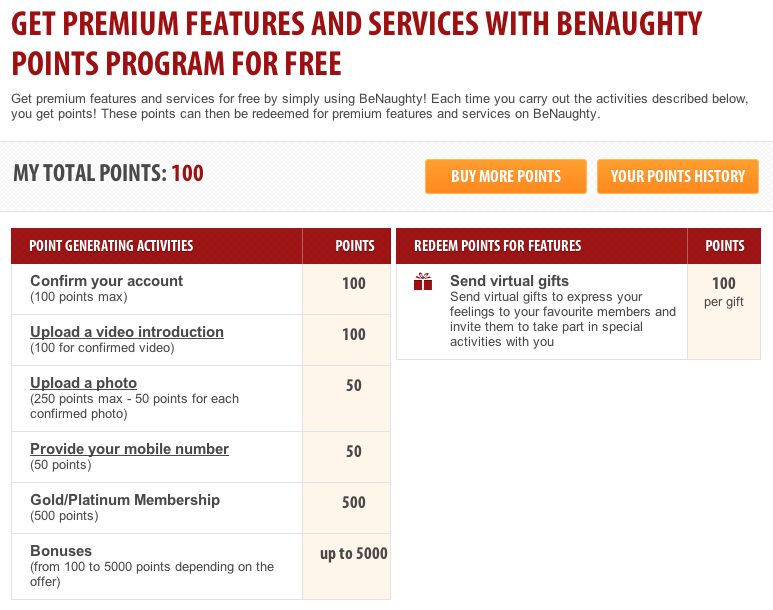 Once I started using the site I was communicating with woman almost instantly. The notifications pop up telling you that you have a chat message and you can start to IM with the user right away. Browsing through profiles on this site is very quick and efficient with a great surfing feature that allows you to "Quickly move from profile to profile within the search thread directly from members' profiles". The profile pages give you a good amount of information in one place. You can either view a short list of common interests and preferences or you can view much more detailed information in tabs. They site also provides a great way to search for member profiles with what they call a "Dynamic Search". This feature give you the ability to choose between viewing a higher amount of profiles in the search results with less information or view fewer profiles with a higher amount of information. So if your looking to view as many profiles as possible as quickly as possible and find yourself someone looking to hook-up you can view a higher amount of profiles on the page or if your intention is to find a quality mate to have an intimate relationship with you can narrow the field and really spend your time exploring their profiles. If you are looking to use the site to hook-up, under the "Naughty CV" tab on the profile pages they give some very specific information about what the person likes such as favorite position, favorite sexual activities, favorite toys, erogenous zones and special preferences.
Features
- Free android app for all members, you can quickly search for locals in your area with the "Geo Search" and communicate with member on the go.
-  Earn BeNaughty points by uploading photos and videos or upgrading your account and send members virtual gifts.
- View who's online now and start chatting with members right away.
- Free online chat rooms for anything from "General Chat" to "Kinks and Fetishes"
- Read blogs about an assortment of topics such as relationships, advice for newbie's, adult experiences, fun, life and society or friendship.
- Get a detailed list of profile visits and see who's been checking you out.
- Dating News, to keep you updated about all the exciting news in the world of online dating.
- Give and receive star ratings, your odds are greatly increased by time 10 times if you upload a photo (which I feel goes without saying)
- Add members to your favorite list or add them as a friend and get regularly updated about the activity on the site and get notified when their online.
- Naughty Mode, you can turn "Naughty Mode" on or off and choose how racy you want you want the site to be. The site is called BeNaughty so I think the Naughty Mode should always be on by default.
- Read member success stories, if your reluctant to sign up for the site you can easy your worries by reading some great stories of other members success' with the site.
- Find friends, you can sync your gmail contacts with the site and find your friends who are using it.
- BeNaughty will notify you when a new "highly compatible " member signs up by sending you a message and giving you the option to either reply, add them as a friend or if their online start chatting right away.
Price
BeNaughty.com Membership Prices
3 Day Trial-$1.16/per day
1 Month-$27.99/per month
3 Months-$20.99/per month
6 Months-$13.99/per month
Video Review
For a more comprehensive look at the site and its functionality check out our video review below.

Drawbacks and Caveats
The only thing I could find about the site that I didn't like was that the quality of woman seems to vary drastically. Not that I expect every member to look like a model, I just don't want to spend my time viewing profiles from woman I have no interest in. Although I've been disappointed by sites in the past that seemed to good to be true (which they ended up being) so I think the varying degrees of members profiles help validate the legitimacy of BeNaughty.com. The site has some really great chat features that allow you to communicate with other member through text, IM or group chat, but the downfall is these feature can only be utilized if you upgrade to a premium membership.
Conclusion
BeNaughty.com seems to have something for everyone. Whether your looking for a quick and easy hook-up or someone to potentially be with for the foreseeable future, the diverse base of members can provide whatever it may be that you're looking for.  The absence of pop-ups and extremely explicit ads, which most sites are usually covered with, is a breath of fresh air. So for all those times you had to be nice as a child to get presents from Santa Claus, its time to be naughty and check out BeNaughty.com.
BACK TO DATING SITE REVIEWS       INTERNET DATING AWARDS HOME         DATING TIPS BLOG