Rating: 5
March 11 2013
About
SocialSex is the new Cadillac of casual sex sites. It's super-slick, and filled with thousands of horny locals looking to fill their lives with as many hot hook-ups as their itinerary can accommodate. Happily, the site has absolutely no qualms about what they're there to do: matching randy people up so that they can get their naughty bits wet. The design of the site is completely geared to that goal, but in case you ever forget, the SocialSex icon is always visible and it shows a couple of twitter birds doing it doggy style (as opposed to birdie style). Hot.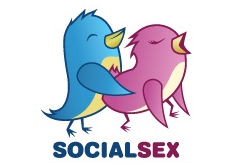 There are distinct directions your initial sign-in takes you depending on what you're looking for, be it heterosexual debauchery, homosexual hedonism, or perhaps something more adventurous, like joining into a threesome with a couple looking to add some spice to their relationship with an extra appendage or orifice. Or both.
To get started, a free profile has to be completed, but the designers at Social Sex know how to keep that process fresh and moving along quickly. Throughout the initial set-up there are plenty of pictures and animated gifs of hotties designed to titillate and tantalize. In fact, the people at SocialSex have images for every category that you choose to apply to yourself, instead of just a boring text box to click. And some of these gifs and pics are just hilarious. Particularly the gifs you click to say you're into fetish sex, or enjoy doing it in an elevator. Big ups go to the designers who are responsible for this humorous aspect of the site!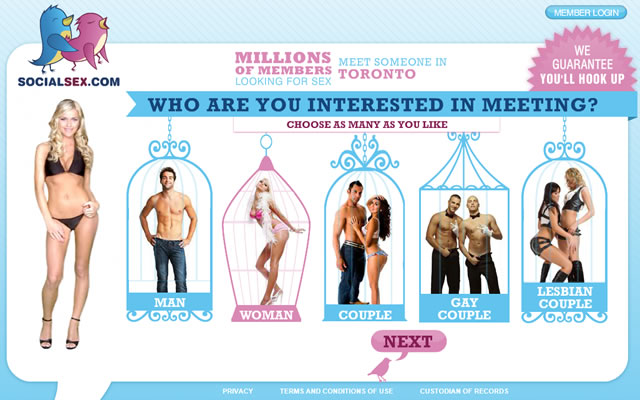 Features
Large, high-res pictures of hundreds of local matches. Some extremely racy!

Free basic membership.
Real-time news feed chronicling new members, new uploaded photos, and status updates.
A "Hottest Members" section that includes an indicator showing who is online at any time.
An "On Cam" section to live-chat with other members.
Private and public Chat Rooms and Message Boards to post and read comments and connect with other members.
Prices
| | 3 Days | 1 Month | 3 Months | 1 Year |
| --- | --- | --- | --- | --- |
| Free to Sign Up | | | | |
| Silver Membership | $1.95 | $29.95/month | $19.98/month | - |
| Gold Membership | $1.95 | $34.95/month | $23.32/month | $12.50/month |
Benefits of Silver Membership
Hook-up with Someone within 100 days, or get your next 100 days FREE

Contact and View all SocialSex Members
Unlimited Chat and Instant Messaging
Benefits of Gold Membership
All the Silver Membership features
Unlimited Webcam access
Unlimited Member Videos access
Featured listing on every Search Result
Video Review
For a more comprehensive look at SocialSex.com check out our video review below

Drawbacks and Caveats
With millions of members, SocialSex can be a little overwhelming at first. However, by focusing your search perimeters and knowing what you're looking for right off the bat, you can easily get the most out of your experience. The free membership includes the basics of the site and will give you a good idea of its benefits, but to garner the optimal experience of multiple hook-ups, a silver or gold membership is advised. However, at just $12.50 a month for the 1 year Gold Membership, the price is well worth the access to so many horny locals. God knows you'd end up spending more than $12.50 in a single night buying martinis for women at the club.
 Conclusion
SocialSex is a highly recommended site for anyone looking to get laid with like-minded people in their area. Everyone is on the same page, in terms of the no-strings-attached fun they want to have, and the fact that there are more men and women on this site than anyone could ever get through in a lifetime means that there is no doubt that your success rate will be high if you put even a minimal amount of time in. Conveniently, it is also accessible using IOS and Android, so you can cruise from just about anywhere.
Social Sex has it all in abundance!
BACK TO DATING SITE REVIEWS       INTERNET DATING AWARDS HOME         DATING TIPS BLOG