Best Dating Site Design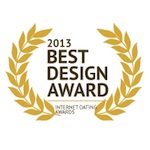 There's little doubt that SocialSex.com has long been one of the top adult dating sites online. However, 2013 saw them step up their game, and that's why we've conferred our Best Dating Site Design Award upon them. Just take a look at the site if you don't believe us. It's benefitted from one of the best branding campaigns in dating site history, repurposing the twitter logo and having the two birds line up doggystyle to get their message across. This is a site that will get you laid, plain and simple, and the branding lets you know that immediately.
The rest of SocialSex follows suit on the design front. The front end is modern, a slick template replete with dating options, and it's highly useable. It certainly doesn't hurt than a scantily clad blonde gets naked while you advance through the signup process – it provided us with all the motivation we needed to become a member. Lest you're not sure however, there are members on the site that look as good or better than she does, and the back end of the site is just as appealing!