Out of Town Affairs Review



Visit site
Rating: 3
March 12 2013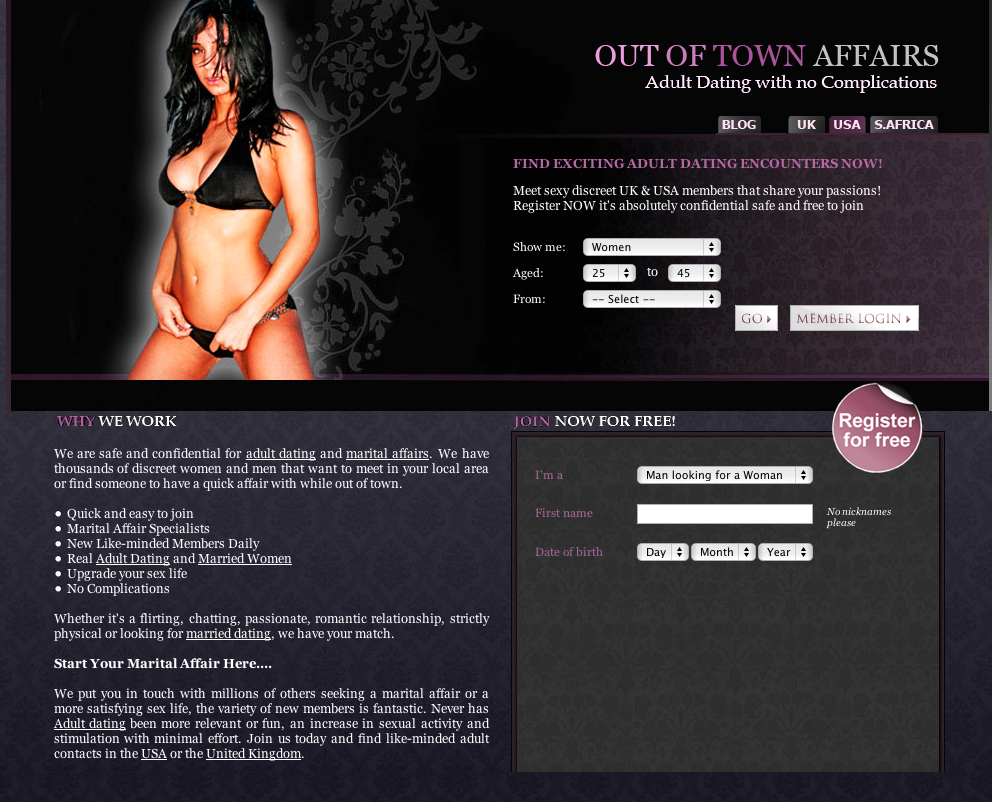 ABOUT
Is OutofTownAffairs a scam? Let's take a look.
Extramarital affairs are nothing new, mostly because women lose all interest in getting nasty once the ring is on their finger, but the way cheating lovers are finding each other is beginning to change. They're looking to the internet to meet like-minded horn-dogs who are after the same thing: discreet, casual sex. Sites like Ashley Madison have been out for a while, but a new website has been gaining some traction in the behind-your-spouse's-back arena: OutofTownAffairs. In an article by the UK Dailymail, it stated that the OutofTownAffairs received over 52,000 hits from UK parliamentary government computers. Your tax dollars hard at work fueling affairs! Let's see if it deserves all the buzz it's getting.
The website has a simple mandate: to bring together married men and women seeking sex outside wedlock. Their tag line states: "Adult dating with no complications". Their modus operandi aims to streamline the whole cheating process. And since most people eventually get tired of a sex life confined to just one person, it's something more and more people will end up trying with one site or another! Unfortunately, in this reviewers opinion, OutofTownAffairs seems like one of those sites bordering on a straight-up scam.
FEATURES
The site looks very slick and glossy, and has an interface that even a noob can master. The main page promotes the newest members in a photo lineup that will help first timers get a glimpse of the types of users on the site. Member Search can be narrowed down by age, users, or geographic area. They've also copied Facebook's interface and included a scrolling newsfeed on the homepage. Each member's profile also includes their photos, videos, and a personal sex diary. But exactly how many of these members are legit is anyone's guess.
 Other features on the site include the video profile capability, its "bolt-on" features, and the "encounters" section. In the encounters section you rate a photo of another member and choose Maybe, Yes, or No, depending on whether or not you want to hook up. The website will then alert you if the feeling is mutual. Profiles also allow users to post a quick video of themselves. If a photo is worth 1000 words, then a video should say it all.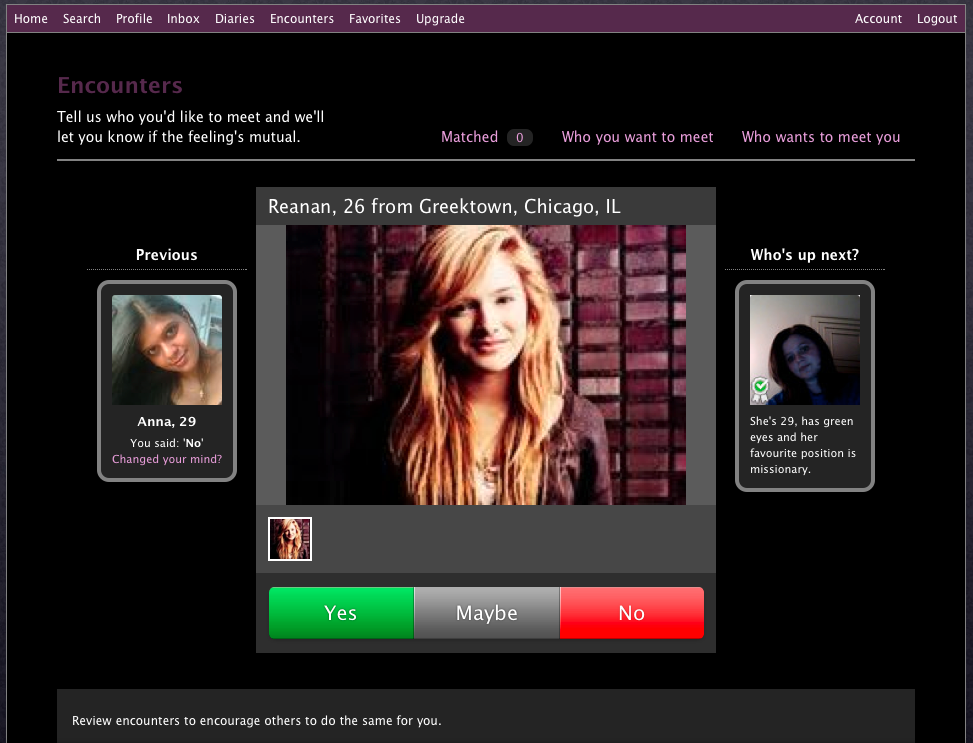 PRICE
A subscription is required to access all features:
1 Month: $29.95 per month
3 Months: $19.99 Per month
6 Months: $16.66 per month
1 year: $11.67 per month
DRAWBACKS AND CAVEATS
The two main problems with OutofTownAffairs are really insurmountable. The first problem is that the site only facilitates users in the America, Britain, and South Africa, as though there aren't married men and women all over the looking to jazz up their sex lives with some strange. Lastly, the vibe of the site is definitely one where you question whether the membership is legit. My guess this site is a lot like AdultFriendFinder, in that the majority of supposed people on the sites are either robots, or abandoned profiles, or straight up fakes.
CONCLUSION
On the surface, OutofTownAffairs has a great, glossy look and slick presentation. Unfortunately this does not make up for the fact that it does not feel as though the majority of the "members" you see are fakes. Plus, as I mentioned earlier, if you don't live in the limited area it services, you're just out of luck. My recommendation is to skip this one, and head to one that is more tried and true. Now hide your wedding ring in your pocket and get out there!
BACK TO DATING SITE REVIEWS       INTERNET DATING AWARDS HOME         DATING TIPS BLOG