Rating: 3
March 20 2013
ManAction Review
About
Although horny women were probably hoping that ManAction was an adult dating site for ladies to peruse hot guys, I'm afraid that it is in fact, a guys-only site, girls. It's for randy men to find casual gay sex hook-ups with other horny gay men in their city. Or, if you're planning a business trip or vacation somewhere, guys, ManAction could let you search your destination city for hook-ups, far in advance of your arrival. You could fill your entire trip's evenings with pre-arranged sexual rendezvous, so that rushing down to hopefully meet another gay, horny guy in the hotel lobby would be unnecessary.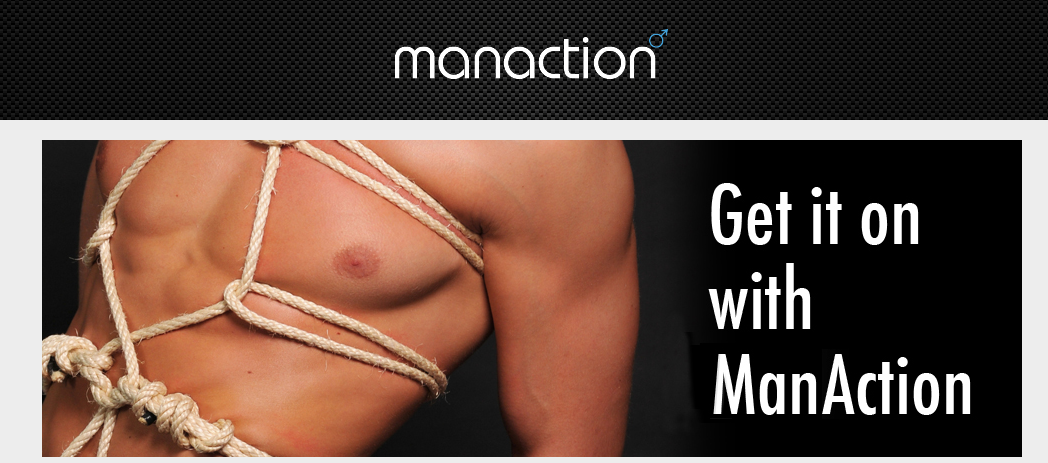 Well, as far as gay dating sites go, Man Action is fantastic. It definitely lives up to its name, because with so many members and such a sharp, glossy interface, with even minimal effort it would be easy for any guy to get some hot, no-strings-attached sex from ManAction. The initial membership is free, and allows you to look through other members and even contact them to see if they're interested  in getting together. After that, if you're interested in staying with the site, you'll have to upgrade to the very reasonably-priced Silver or Gold Memberships. My suggestion is that you get the year-long Gold Membership which gives you access to the entire site's functionality, and at the very reasonable price of $12.50 a month. That's just 40 cents a day for potentially unlimited casual sex! But, let's take an in-depth look since it wouldn't be one of my reviews without it!
Features
Initial Man Action membership and profile creation is free
Real-time scrolling News Feed showing real-time status updates, newly uploaded photographs, and new ManAction members
Instant Messaging
Webcam and E-Chatting
Public and Private Group Chat Area
Message Boards

Prices
| | 3 Days | 1 Month | 3 Months | 1 Year |
| --- | --- | --- | --- | --- |
| Free to Sign Up | | | | |
| Silver Membership | $1.95 | $29.95/month | $19.98/month | - |
| Gold Membership | $1.95 | $34.95/month | $23.32/month | $12.50/month |
Membership (Silver) Gets You:
Limitless E-Chat and Instant Messaging to Other Man Action Members

See, Contact and Receive/Send Emails to Other Man Action Members
The 3 Month "Get Laid or Your Money is Refunded" Guarantee
Membership (Gold) Gets You:
 All Silver Membership Benefits
Webcam and Access to ManAction Members' Personal Videos (Limitless)
ManAction Featured Listing in Other Members' Search Results
Drawbacks and Caveats
ManAction is one of those sites that is a dream-cum-true for gay men looking for a reasonably-priced sex dating site. However, since it is a newish site, the membership is always growing. By joining now, you get in on the ground floor of being seen and noticed by other members, but there will be far more members, say in a year from now. This is really a toothless criticism, since there are currently more than enough men on ManAction to fill every night with hot, casual sex. All I'm saying is that in no time, there will be exponentially more, thanks to the quality of the site.
Conclusion
While merely a newish adult dating site, ManAction already has the kind of site you'd expect to not see until it has a few years under its belt. They've obviously done their homework right off the bat, and the result is a very good gay sex site filled with a growing amount of men looking to get some commitment-free fun. I'd suggest taking a look around with the free membership, and if it seems like the kind of site that might work for you, upgrading to take advantage of the site's full functionality. Quality site.
BACK TO DATING SITE REVIEWS       INTERNET DATING AWARDS HOME         DATING TIPS BLOG