FindYourFaceMate.com Review


Visit site
Rating: 2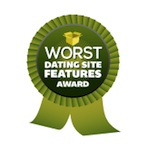 May 7 2013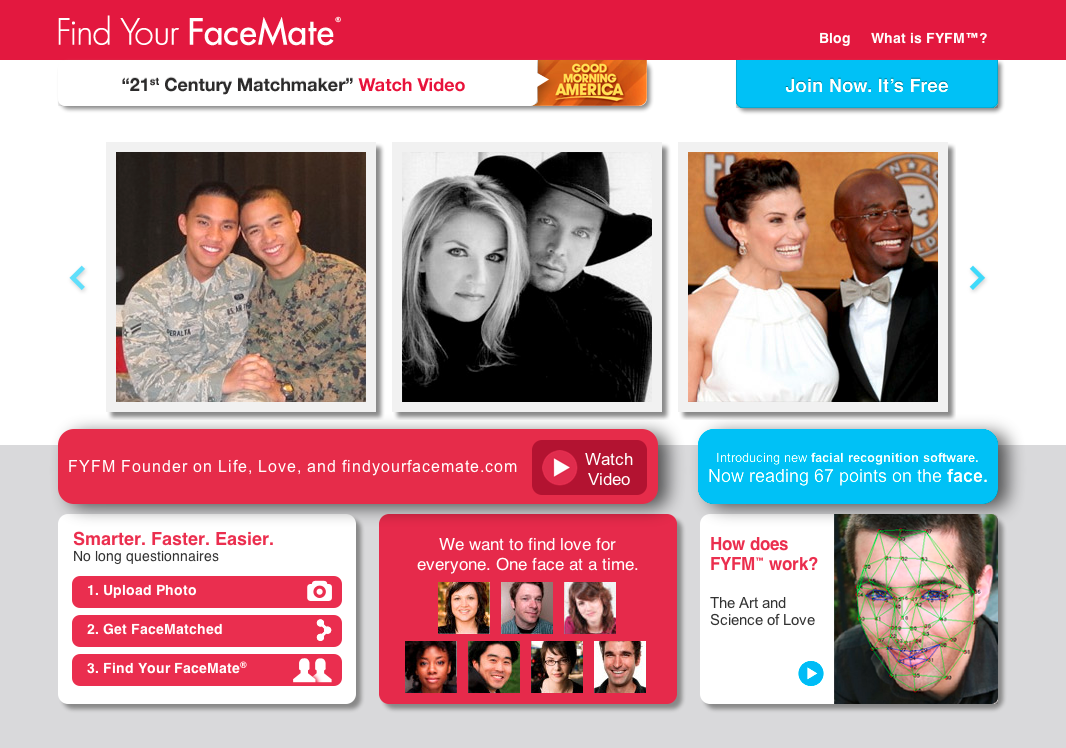 About
FindYourFaceMate.com is a new and interesting addition to the world of online dating. The site does things a bit different then most by claim that "We employ The Science & Art of Love™ in fine tuning the search for meaningful relationships". It matches its members based on their facial features by using a "sophisticated facial recognition software and a proprietary algorithm to identify partners more likely to ignite real passion and compatibility" since apparently according to them "Scientists offer compelling data on romantic chemistry and findings prove that passion is subconsciously ignited when we spot someone whose facial features are similar to our own" So they use a facial recognition software that uses 67 points on the face to recognize your similarities and matches you with other members based on your appearance. The entire principal seems a bit strange and easily open to ridicule since there's plenty of jokes to be made about incest or the idea of literally wanting to fuck yourself. There are a few indicators that the site probably isn't all its cracked up to be.
Features
- Search feature only has two search term fields, Age Range and Proximity, to choose. Also you can only view 25 search results per day having to come back each day to view more potential matches.
- Blog page with lots of great entries with advice and insight in the world of online dating
- Sending emails to other members is the only way to communicate with your matches on the site
- Watch a video of the websites founder Christina Bloom explain her motivations for creating the site and some of her feelings on Life, Love and FindyourFaceMate.com
- Read the "Science & Art of Love" and get gain some insight on the site and find out exactly why "The visual portion of the brain signals our unconscious and we are innately drawn to people with features like ours."
- View their gallery of couples with similar facial features from site members to famous celebrity couples
- Links to multiple news and magazine articles as well as mentions of the site on different television news shows
- See your "Facemate Compatibly" with another member, although the only indicator I saw was "Fabulous"
- View your most recent "Face Mate" or check out your "Expanded Matches" if you want a few more options quite far from where you live
Video Review
Check out our video review for a more comprehensive look at the site and its features here.

Drawbacks and Caveats
FindMyFaceMate only allows you to view 25 search results a day. I don't know if this is a ploy to keep you coming back to the site on a daily basis or if it's an attempt to cover up the fact that the sight might not have a very large base of members. The site did find me 52 matches within approximately 5 minutes. Although, I cant see one thing my face had in common with any of these woman? One of them was actually a picture of a man but the profile said the user was a female? I think there are some people out there trying some experiments with the site. There were quite a few profiles created by curious browsers who are questioning how the site works and the "science" behind it since the profile pictures were of famous celebrities like Mila Kunis and Lea Michele. I mean I'm flattered to be considered attractive enough to be pooled in with such beautiful woman but I really don't know if there's any legitimate science behind these results. The whole idea of the site seems a bit a shallow to me since the only criteria their using to find other matches is what you look like which ultimately seems to insinuate that personality has nothing to do with compatibility. It comes off gimmicky since there's no real substance on he site. User profiles are very basic and the site's features definitely leave a lot to be desired since emailing is the only real way to communicate with other members.


Conclusion
The site may provide a bit of fun for a couple of minutes and also might be good for a bit of a laugh but the site is a novelty and really isn't a useful tool to use when it comes to online dating. Do you really want to use a site that's main principal is that looks are all that matters, they try to cover the vanity of it with some nonsense about how people who look a like are attracted to each other. So physical attraction is the only piece of criteria we need when it comes to finding you a partner or potential lover. I've devoted to much of myself and life to believing a completely opposing idea to give that site any recognition for being a legitimate online dating site.
BACK TO DATING SITE REVIEWS            INTERNET DATING AWARDS HOME              DATING TIPS BLOG