Rating: 4
March 14 2013
EroticMatch Review
About
EroticMatch is another website trying to capitalize on the fact that more and more people are foregoing the monotony of a monogamous relationship by having wild, hot sex with as many new, sexy people as they can. Even if you do plan on settling down someday and getting married, why shouldn't you sample all the delicious varieties of sexual ecstasy that you can beforehand?! Life is for living, people! O.K. that's my sermonizing for the day. The first thing you need to know about Erotic Match is that they're not interested in hooking you up with jut anybody. By completing their detailed initial free profile, their site is designed to target the people that will curl your toes more than anyone else. After all, if your fantasies revolve around a threesome with two Asian women, you don't want to get a bunch of hook-up requests from Caucasians transexuals, right? So it's definitely worth the time and effort to accurately input your honest desires!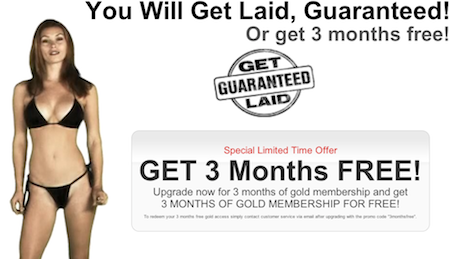 One word of warning – the profile pictures that these ladies put up are definitely not safe for work! As a big fan of amateur women taking near-nude and totally nude pictures of themselves, I can say that this site would do just as well as a porn site as it does a dating site. No end to the legit eye-candy here, my friends! Wowza!
Features
 Free sign-up and initial membership and profile creation
Instant Messaging and Email Functions
A Virtual Sex World to have kinky fun with an avatar
Precise Search functionality to ensure compatibility
Video Chat and Online Dating Advice
Forums and Message Boards
Members Videos
3 Month Get Laid Guarantee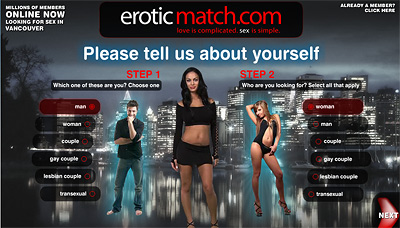 Prices
| | 3 Days | 1 Month | 3 Months | 1 Year |
| --- | --- | --- | --- | --- |
| Free to Sign Up | | | | |
| Silver Membership | $1.95 | $29.95/month | $19.98/month | - |
| Gold Membership | $1.95 | $34.95/month | $23.32/month | $12.50/month |
Silver Membership Includes:
Get laid in 100 days, or get the following 100 days absolutely FREE
Instant access to all Erotic Match profiles, and contact them with a variety of methods (email, chat, webcam)
Instant Messaging and E-chat are unlimited
Gold Membership Includes:
Instant access to every Silver Membership feature
Webcam access: Unlimited
Member Videos access: Unlimited
Featured listing results
Drawbacks and Caveats
The lengthy sign-up process can definitely initially deflate the excitement that you have once you start looking through the site. I see this as a necessary evil, though, because the more detailed you make your profile, the better Erotic Match will do matching you up with compatible people. The free membership is limited in scope, but it does allow you to take a thorough look through the people that are in your area, and get a feel for the site. To get the best out of the site, a silver or gold membership is necessary, but in my opinion, it's worth the cost to have so much easy access to so much sexual opportunity. Plus, the 100 day Get Laid Guarantee is always there if things don't work out (although with minimal effort I got a half-dozen interesting invitations from some sexy ladies!).
 Conclusion
EroticMatch is a very effective site for people who want sex without drama or any sort of relationship involved. Their membership is huge, so finding like-minded horny people is definitely a given if you put a little time into it. The thing that I like a lot about the site are the Message Boards. It gives you a chance to post your views on whatever sexual proclivity you may have, or fantasy you may be interested in trying. Once you get some people on there posting their agreement, hooking up whatever crazy fantasy you might have is as simple as choosing the ones you find most attractive. Very worthwhile.
BACK TO DATING SITE REVIEWS       INTERNET DATING AWARDS HOME         DATING TIPS BLOG