Rating: 2.5
March 7 2013
Cupid.com Review
About
Cupid.com  is a decade old online dating site that provides its users with easy signup, and pretty basic features. While membership is free, you won't get very far unless you sign up with a premium membership. After signing up for Cupid.com, I quickly learned that it offers basic features that don't really stand out from the rest. For those looking to up their chances with many different sites, however, it's still worth a shot!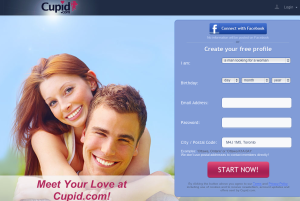 Features
Cupid.com doesn't believe in a lenghthy, time consuming signup process. In contrast to the automatic match up systems, or long questionnaires offered on other dating websites, Cupid.com urges its members to jump right into the dating process after creating a quick, basic profile. Cupid.com believes that it's up to each member to contact their desired matches, and treat dating as they would in the real world. As long as you create an all encompassing, honest profile with a recent picture, Cupid.com believes the rest will happen naturally.
As a result of their independent dating perspective, members are able to make in-depth searches for prospective matches, such as looking for local users in your area, and looking for users with the same interests as you!
Cupid.com lets its users know when prospective matches have last logged-in. This is a really important feature, because you can determine how dedicated certain users are to finding love, romance, or a casual date!
Before you even create a profile at Cupid.com, the sign-up/home page gives its members a little teaser of what they might expect from the website. For example, if you scroll down, you can learn about the sites online chat rooms, flirt rooms, and speed dating.
What we didn't love
Unlike some online dating sites, Cupid.com users are known for providing pictures! With that said, it's often difficult to view these pictures because the thumbnails don't enlarge the way you would want them to.
The options for free membership are pretty limited. For starters, you can only send winks to those you're interested in, and reply to emails sent by premium members.
It's nice & fun to fill out questionnaires and personality tests, which Cupid.com doesn't promote.
Cupid.com membership isn't as high as other online dating sites, and member involvement isn't so impressive either.
Prices
Premium membership at Cupid.com allows for instant messenger, text chat, and audio/chat, while free membership only allows sending out 'winks,' and responding to emails. The lack of free membership features is pretty disappointing.
| | 1 Month | 3 Months | 6 Months |
| --- | --- | --- | --- |
| Free basic membership | | | |
| Premium Membership | $29.95/month | $44.94/month | $99.96/month |
And that's a wrap
As a whole, it would seem that Cupid.com isn't our favourite online dating site. We're not saying it's bad, we're just saying you can probably do better. At the end of the day, a good dating site is one that has extremely high membership rates, lots of user involvement and dedication, and good free membership features. With that said, when you're looking for love, romance, a date, or a fun, casual night, it's important to maximize your options everywhere you can!
BACK TO DATING SITE REVIEWS       INTERNET DATING AWARDS HOME         DATING TIPS BLOG