AnastasiaDate.com Review


Visit site
Rating: 2
June 19 2013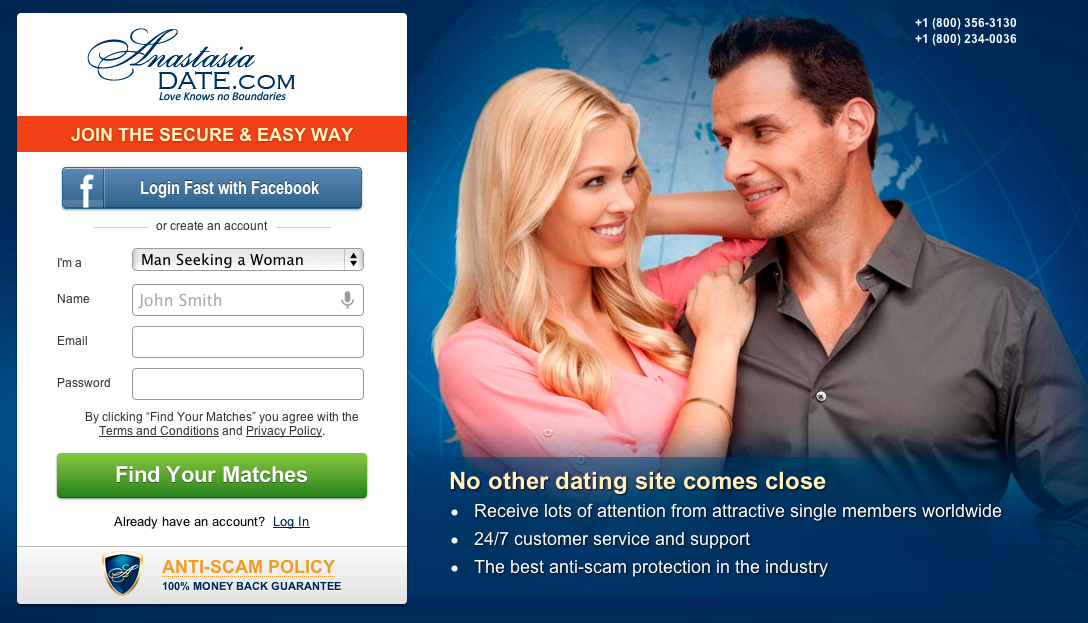 AnastasiaDate.com is a new online dating website that promises to hook you up with single woman from Russia and Eastern Europe. These woman are willing to get married and carry out a traditional life of antiquated gender roles, but if you're looking for a trophy wife who doesn't speak great English but is great between the sheet and cleaning your house then you've come to the right place.  Since according to the website
"Women of Russia & CIS are looking for a "normal" family life, which for them is difficult to come by for numerous complex reasons. World War II decimated the Russian male population from which many believe the nation has not recovered. Last Russian census documented over 77 million women to approximately 66 million men. Great odds in any bachelor's book. These numbers alone stack the deck against finding a suitable mate for even the most beautiful and talented woman."
If you continue reading the information they provide about the woman on the site they tell you that "Russian culture places great emphasis on a strong and harmonious family life where women are raised to respect the traditional roles of men in marriage. They expect men to fill the customary roles as Heads of the Family, Father Figures and Patriarchs and so generally prefer men somewhat older than themselves." So if you want an obedient and domesticated wife then a Russian woman is what you need.
Features
- "Search for Your Special Lady" has a relatively small amount of search terms giving you only some basic fields to fill out like Age, Country, Hair Color and Height with only one unique option being English Speaking Skills so you can find a girl who's fluent or just a beginner.
- You can also create a notification when a "Newest Ladies" matches your specific search terms, you can set-up as many of these as you'd like.
- They provide some "Quick Search Tips" to help you yield the best results from the site. Some suggestions include, being honest about your age and that you should watch their videos to get better sense of them (which isn't cheap) and that you should wish them a Happy Birthday since they would be very flattered and is apparently a great way to start a relationship?
- Female members profile page have a ton of high-resolution photos and you can send them a one of 5 generic "Love Notes" for free.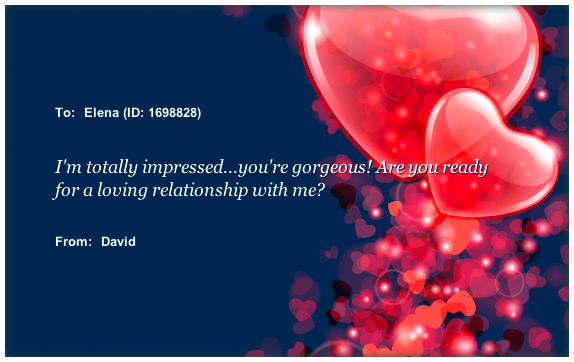 - You can send your potential future Russian bride an assortment of cliché gifts like Flowers, Perfume, a Teddy Bear, a Box of Chocolates, a Bottle of Champagne or Wine or even a Gold Pendant and although video chat is free and the woman on the site all have videos on their profiles you can buy them a web cam for 249 credits and at $0.80 per credit that almost a $200 web cam! My personal favorite gift is a fruit basket ranging anywhere from 259 to 579 credits which is $463.20! That better be the best fucking fruit basket in the world! If you want a cheaper option you can send a "Virtual Gift" for the very low price of 15 credits/$12. You also get to include a message with any gift that you send.
- You can call a female member by requesting a phone date, which of course is not free. The call will cost you $100 credits for a 10 minute call, each additional minute will cost you 10 credits. So translate to dollars and the first 10 minutes would be charged at $80! and then each additional minute costing you $8.
- You can request to "Date a Lady", which the site only allows you to do after you have sent and received 5 messages form a lady. Of course this is going to cost you to, but funny enough not as much as a phone conversation. The initial fee is $70 for an hour and a half meeting with the assistance of an interpreter and if the date goes well you can pay $20 for each additional hour after that. The whole process fells like using a call girl service but the site points out that "These meetings are scheduled for no other purpose other than to determine mutual compatibility and chemistry between you and the lady"
- The site provides a ton of answers to all the questions could possibly think of with its "Question Categories" which covers everything from Prices and Policy to the very frequently asked "Why are Russian and Ukrainian woman looking for a foreign husband and someone who is older than they?"
- Video Testimonials allow you to get some insight from actual men who have participated in one of the "Tours" and traveled to visit their potential future wives in person.
Prices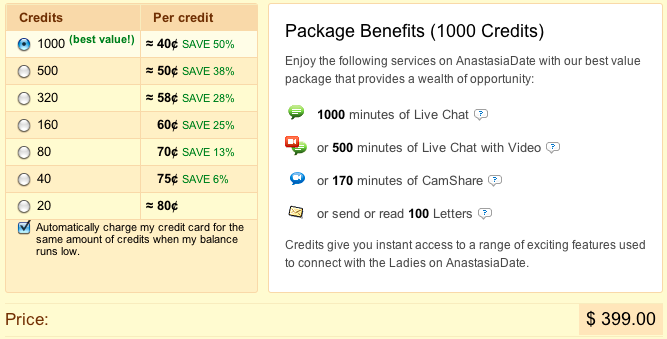 Drawbacks and Caveats
The site has a very outdated design and layout and is definitely in need of a facelift. It reminds me of a website I would use while connected to my parents old dial-up service in my basement. The site is also insanely expensive which you can get a sense of from my description of the sites features. I mean $80 for a 10 minute call is robbery, even if you buy the highest amount of credits to get them a the most discounted rate you would still be paying $40 for a 10 minute call. The site allows you to get free credits by spamming your friends with emails to join the site, but since they don't tell you how many credits you'll earn I imagine it's not very much.
Video Review
For a more in depth look at the site and its features check out our video review HERE

Conclusion
The set-up process for the site takes all of two seconds and gets you browsing potential Russia and Ukrainian wives profiles in no time. Although once you decide to actually communicate with one of these women you better have some bank roll cause shit is going to get expensive! But If you're an older gentleman and you've experienced a divorce or a widower then this site might be for you, but hopefully your ex-wife didn't clean you out because while this site may provide results it is going to cost you a heap of money to make it that finish line.
BACK TO DATING SITE REVIEWS            INTERNET DATING AWARDS HOME              DATING TIPS BLOG