Worst New Dating Site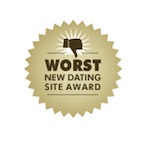 Congratulations to HornyMatches.com for being the worst new dating site. The site claims to have "Over 7 Million Members Worldwide" but if you read the Terms and Conditions you get some lovely information on how the site is basically a scam.
"We may post fictitious profiles, generate or respond to communications by means of automated programs or scripts that simulate or attempt to simulate your intercommunication with another real human being (though none really exists and any dialog is generated by programming), and we may employ or contract for the paid services of real persons who may interact with you as part of their compensated employment."
The site is a complete waste of time and with so many great real online dating sites out there there's no need to be wasting your time communicating with bots or "real women" who are mostly just prostitutes looking for new business.